Our youth organizers are helping get and maintain more trees in our neighborhood, which help reduce heat, provide shade, and help absorb water in case of rain, and reduce our carbon footprint by absorbing carbon dioxide. Get a tree on your sidewalk, or help us maintain current trees by contacting us or signing up.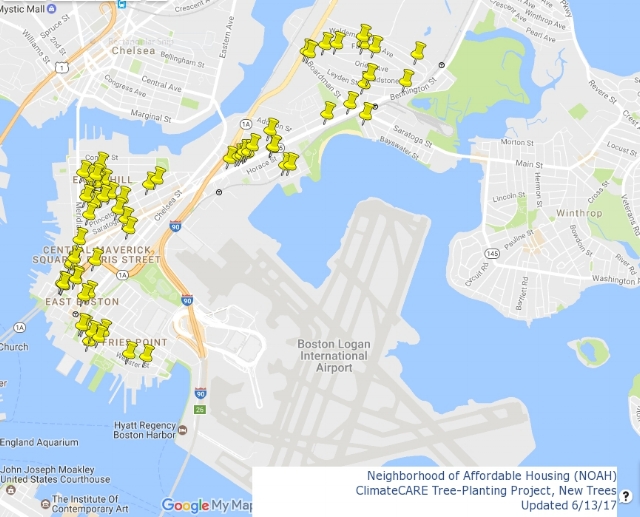 This map, created by N-YO, shows all the new trees that were planted by the City of Boston in 2017 in collaboration with NOAH.
How can I help?
Request a tree
You can request a tree in front of your home if you don't currently have one by calling 311. It usually takes a few months, depending on the time of year when you request. Tree planting is contingent on your sidewalk meeting the size requirements (a wheelchair must stil be able to pass by with a tree planted).
Be a water provider
You can volunteer to provide water to our N-YO tree maintenance crew so they can take care of Eastie's trees by emailing Melinda Vega or calling 617-418-8243.
Adopt a Tree
You can volunteer to "adopt a tree" near your home, and you'd be in charge of taking care of it by: checking on it regularly, watering it, adding mulch if needed and removing trash around it. Volunteer by emailing Melinda Vega or calling 617-418-8243.
In the Media...